After strong double digit growth in the first quarter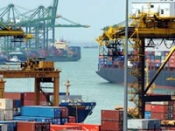 Container shipping volumes are expected to rise only six to eight per cent by the end of this year despite companies in the industry showing double digit growth in the first quarter.
Experts said trans-Pacific routes and those between Europe and Asia are likely to slow the most while intra-Asia services remain stable.
Container shipping seems to be coming back after a tough 2009. According to shipping consultants Drewry Maritime, volumes have risen some 40 per cent on-year in the first quarter of 2010.
Market watchers said that's largely because of last year's low base.
But they said, going forward, there are still risks like Europe's debt crisis and unemployment in the US, which may affect consumption.
Divay Goel, head of Asia Operations, Drewry Maritime Services Asia, said: "If the contagion spreads to the bigger economies, there would be a sentimental reaction, like we saw in 2008′s last quarter and 2009 – a slow down in credit which affects trade because it would become difficult to get letters of credit."
And there could be another cap to improvement for the sector this year as analysts said that in light of improving volumes, companies have been re-introducing ships that were moth-balled during the crisis, thus driving down rates for the rest of the year.
Contract freight rates for Asia-Europe and Trans-Pacific routes have risen up to 25 per cent since the start of the year.
Intra-Asia rates have only gained about 12 per cent and are generally expected to hold up better due to fewer macro-economic risks.
Combined with potential overcapacity, the container sector is expected to end the year on a choppy note.
Katharine Cheong- Koh, director of Research, Island Shipbrokers, said: "We are seeing a more moderated recovery on the demand side and in terms of supply, we're seeing heavy pressures in terms of supply overhang.
"For example, we can see those 5,000 TEU and above container ships. 45 per cent is their ratio for order-book over fleet, so that's still a very huge percentage."
Volumes are expected to grow six to seven per cent across the board by the end of the year with supply of shipping capacity hitting seven to eight per cent, leaving the sector with still more fat to work off.
Source: Channel News Asia